Ellenbrook's Most Reliable Electrician – NO CALL OUT FEES, All types of electrical work
At Richtek, the customer is our top priority. As a professional electrician we don't consider a job complete until you are 100% satisfied!
---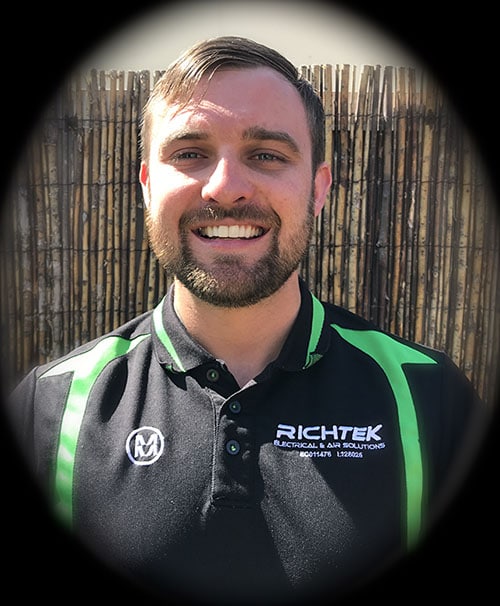 Electricians
Ellenbrook's Reliable Team of Electricians Ellenbrook's Reliable Team of Electricians When you need a qualified electrician in Ellenbrook, Richtek Electrical are the professionals to call. We specialise in all types of electrical services of all kinds, from household faults to industrial issues and urgent, 24 hour solutions. Whether you're experiencing electrical problems at home or simply want to ensure that your plant machinery is always running as it should, we understand the importance of addressing these issues in a timely and cost-effective manner. Providing comprehensive professional solutions Our electrical team consists of very experienced and competent electrical contractors Providing comprehensive professional solutions Our maintenance team consists of very experienced and competent electrical contractors with extensive maintenance backgrounds. We also have instrumentation technicians available for the more complex and in depth fault finding tasks and look after all your preventative and scheduled maintenance requirements.
Our emergency services:
General electrical breakdowns
Complex plant/machinery breakdowns
Comprehensive maintenance management skills
Emergency and exit lighting scheduled maintenance (EEL)
All types of preventative maintenance
All types of schedule maintenance
Household fault finding and repairs
Various types of energy efficient solutions
Testing and tagging
Call Us Today: (08) 9375 3926 – NO CALL OUT FEES
Domestic Electrical Work
Richtek's domestic electricians are second to none. We cover a large variety of domestic work W.A wide. We take pride in each and every job that we do and treat it as if it were our own home. Due to our vast experience in the domestic field we are able to inform our clients with the most cost efficient and beneficial ideas. At Richtek no one is treated like just a number, each and every client is extremely important to us. New Homes We understand how big and life changing building your own home can be, so we want to take as much stress out this process as we possibly can by ensuring that all of our clients get the outcome they deserve.
What we offer:
All types of new homes from the most complex to smaller cozy family homes.
New multi complex units
New multi complex townhouses
Rewiring of existing homes
Renovations to existing homes
Alteration/additions
C-Bus control systems
Star serve
Full automation packages
Plus much, much more
Call Us Today: (08) 9375 3926 – NO CALL OUT FEES

Commercial Electrical Work
Here at Richtek, we are the experts when it comes to electrical installations, modifications, repairs and maintenance of commercial circuitry fixtures. We offer a range of solutions, ranging from entire sets of electrical fit outs when setting up your new workplace to minor adjustments needed during renovations. Our experienced team of qualified tradesmen are able to perform any electrical task you may need, whether it's lighting fixtures, heating systems, sensors or signage. Providing unparalleled solutions that you can rely on It is our mission to provide services at a high standard, that is consistent and expected by all our customers, therefore we only use our full time employees to do the work and no subcontractors. This is how we can make sure that every project delivered by Richtek electrical has the same quality control and high standard that is now expected.
Our commercial services:
We can provide entirely new installations for;
Aged care facilities
Apartments
Cafe's
Customized shop fit-outs
High rise apartments
Industrial buildings
Restaurants
Retirement villages
Schools
Shop fit-outs
Shopping centers
Stadiums
Transportable living
Plus, much more
Call Us Today: (08) 9375 3926 – NO CALL OUT FEES

Industrial Electrical Work
The Company to Call When You Need an Industrial Electrician Here at Richtek, we know that your business relies almost entirely on your equipment working exactly as it should. That's why we provide a highly responsive industrial repairs service throughout the Joondalup metro area – to ensure that you are back up and running again in no time. As a company who is experienced in working with a range of industrial clients, our team of electrical technicians provide quality workmanship, reliable advice and unparalleled customer service that separates us from the pack. We understand your needs, no matter what they are; The needs of specialised industrial companies are wide and varied. Whether your business specialises in agriculture, horticulture, manufacturing, processing etc., we are your electrical contractor of choice. Our highly experienced teams span across the state to ensure that your premises are always maintained and compliant.
Our range of services:
Motors, machinery, automatic and control solutions
New installations
Audio and visual, data and communication
Fault finding and emergency services
Instrumentation calibration, loop testing and installation
Surge and lightning protection
Power factor correction and energy efficiency
General and specialised lighting and lighting design
Scheduled and preventative maintenance
Project management and installations
Wiring and connection of new machinery
Call Us Today: (08) 9375 3926 – NO CALL OUT FEES