Surround sound theatre systems are increasingly accessible in family homes – there is a range of different home theatre options available to Australian consumers. If you're in the market for a new home theatre, it's essential you understand the industry before you make any purchases. Choosing the right display system and the correct audio pairing can make a world of difference with home theatres.
A TV surround sound theatre isn't just about the quality of your system; it's also essential that the right team installs the system. With the amount of technical equipment involved in high-end surround sound systems, you don't want to take any risks with the wrong installation crew. On this page, we'll explore Perth TV surround sound theatre options and help ensure your new system gets installed correctly.
The Best TV Surround Sound Theatres
There are a wide variety of different surround sound systems available in Perth. The best home theatre system for you will depend on your preferences and space. It will also depend on the level of functionality that you're looking for.
First, you should assess what type of screen you're looking to purchase – home theatres come with either traditional TV screens or large projector screens. In the case of a projector screen, you'll need to ensure that you can carefully control the lighting in your chosen room; excessive lighting will impact the image quality on the projector screen. However, since TV screens for TV surround sound systems can reach up to 90″ in size, you might not need a projector.
The second component of a TV surround sound system is the audio. Choosing the right surround sound audio system can take your home theatre to the next level – it gives your room a real 'movie theatre' vibe. While most surround sound systems come with about five speakers, other, larger systems have many more speakers.
You may also want an audio bar placed at the front of your home theatre room – these audio bars provide excellent audio quality. Adding a subwoofer to the mix can help ensure that you get the type of bass you need to enjoy action movies and other sound-intensive films. The best part about sound systems is that you can typically customise them to fit your exact needs.
You'll also need to decide what type of entertainment platforms you're looking to incorporate into your surround sound theatre. Many people have traditional TV providers installed in their theatres so they can watch content other than movies as well. You can now also incorporate a variety of different streaming services into your home theatre if this is something you're looking to take advantage of.
At present, more and more Bluetooth and wireless-capable surround sound theatres are entering the market every day. These technologies allow users to wirelessly control much of their theatre, but there are still plenty of cables and wires in the background. It's essential that you install your TV surround sound system correctly if you want to use it to its fullest potential.
TV Surround Sound Theatre Accessories and Add-Ons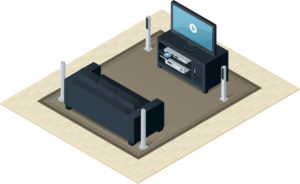 While the audio and video quality of your home theatre system are the most critical components, it's also essential to consider some of the other important aspects of a home theatre system. If you and your family want the full theatre experience, it's vital that you purchase additional accessories for your theatre.
Many people with surround sound theatres in their homes also buy comfortable, high-end seats for their systems. While some of these seats can be extremely expensive, others are much more affordable and still provide the same functionality. Many people enjoy recliners that provide extra relaxation in their home theatres.
There are also plenty of other features that you can add to your home theatre. In-room refrigerators or food cupboards can ensure you and your guests stay refreshed and fed for the duration of any film. You can also add other furniture that can house additional in-house technologies, such as gaming consoles and DVD players.
Last, you may want to consider decorating your home theatre room to help provide additional appeal and authenticity. Classic movie posters, signs, and other novelty items can help enhance the overall appeal of the room.
TV Surround Sound Installation Services
If you're thinking of purchasing a new TV surround sound theatre, the system itself is only one part of the puzzle; you'll also need to figure out how to install it. Depending on the theatre you're using, the installation process can vary in difficulty. One thing is for sure – if you don't install your TV surround sound theatre correctly, you won't be able to enjoy its features as much.
Home surround sound installation isn't easy; that's why it's often best to work with a team of experts to install your next home theatre. We recommend that those in the market for a new surround sound speaker installation work with a team that has advanced electrical and installation knowledge. Using a group of professional electricians ensures a higher standard of installation that leaves no stone unturned.
While many electrical stores offer their own installation services, these teams might not have the same capabilities or expertise as a real electrical solutions company. Make sure that you consider the benefits of using a team that knows more than just TV installation procedures – this is especially important if you have a complicated installation process.
An electrician can help customise your home theatre to best suit your particular design and functionality requirements.
If you have a purpose-built room for your home theatre system, there's a chance it might not be equipped to handle the electrical requirements of a home theatre. The room may need some additional electrical adjustments. A team of electricians can ensure your new home theatre room is capable of handling a large theatre. Finding problems out the hard way can be a nuisance if you're trying to install a new system.
The more advanced your new surround sound system is, the more electricity it will require. If you want to keep the aesthetic appeal of your room, it's nice to work with a team of electricians that can adjust your electrical work accordingly. Having visible wires and cords can ruin the ambience of your new home theatre.
Surround Sound Installation Near Me
If you're looking for TV surround sound installation in the Perth area, you've come to the right place. We service the city and many surrounding areas. At present, we provide our services to Armadale, Bibra Lake, Cannington, Canning Vale, Claremont, Cockburn, Cottesloe, Dalkeith, East Victoria Park, Fremantle, Joondalup, Malaga, Mandurah, Midland, Morley, Myaree, Osborne Park, Rockingham, Wangara, and Welshpool.
If you live in any of these areas, we'd love to help you install your next home theatre. Our electricians are on-hand to address any installation issues as quickly as possible. We can also make service calls to these areas if there are any problems with your current surround sound systems.
Also, our team can handle a range of other electrical problems, making us a great choice if you're looking for a long-term partner that can assist in future installations and repairs. We have locally based electricians that can respond to calls quickly and provide the assistance that you need. You'll never have to wait long for a Richtek Electrical Solutions electrician to come to your door.
Surround Sound Installation Cost
The cost of a surround sound speaker installation or home theatre installation will vary depending on the installation team that you choose. It will also depend on the complexity of the job. If you're looking to find the cost of your TV surround sound installation project, it's best to ask for a quote.
You'll need to know which type of surround sound system that you're purchasing. For example, a Bose surround sound installation may cost a different price than a Best Buy surround sound system installation. The installation team will also ask you about the room designated for your home theatre system, which may alter the price of the installation.
Regardless, the cost of installing a home theatre is relatively small when you consider the benefits. TV surround sound systems aren't cheap, so it's essential that you get as much value as possible from your new system. Proper installation can ensure that your system functions effectively and correctly long into the future.
Choose an Installation Company You Can Trust
If you do decide to work with an installation company to install your next TV surround sound theatre, it's essential to work with a company that you can trust. Richtek Electrical Solutions is a full-service electrician company that ensures you work with some of the best qualified installers in the state. We only employ fully-qualified electricians to ensure that the highest standards are upheld.
Our reputation speaks for itself – we have over a decade of experience in solving complex electrical problems and performing high-end installations. Our team of electricians is equipped to handle any installation in any setting; we've performed countless similar jobs. Don't hesitate to call our on-site team for a quote today!
We are ready to take your call.
Contact Us Today!