Smoke Alarms
Out of all the deaths caused by home fires, three out of five are caused by a lack of or faulty smoke detecting system. House fires are no small matter, which is why it's required by law that most homes have a smoke detector installed.
These devices aren't a luxury; they're a necessity that can mean the difference between life and death in a worst case scenario. Smoke alarms are especially important here down in Perth due to the extreme heat and out of control bushfires.
If you have a smoke alarm, chances are it's not up to date. If your building was constructed before 1997, then you'll definitely need a replacement. In that year, the Australian government first implemented its regulations and rules regarding smoke detection. If you need maintenance on your RCD and smoke alarm in Perth, give us a call.
Even if you don't have a smoke alarm at all, we provide the best state of the art fire detecting technology in Perth, all with guaranteed affordability. It's always better to be safe rather than sorry, no matter the situation.
The reason house fires can be so dangerous is the fact most occur at night when you're not aware of your surroundings. Most of our senses get compromised when we sleep, especially our sense of smell. This is especially troubling considering that it's not the heat of the fire that often kills victims, but rather the toxic gases inhaled. However, we respond especially well to sound cues while asleep which is why smoke alarms are so effective.
In the modern world, innovative leaps in design, architecture, and technology are changing the world of fire detection at an unprecedented rate. That's why when you're considering where to get your smoke alarms in Perth, Australia, you'll want to put your trust in a company that is up to date with the times.
An outdated smoke alarm can potentially be just as dangerous as not having a smoke alarm at all. In the increasingly crowded world of living spaces, you'll need equipment that can keep up.
On top of installation and maintenance of smoke alarms, EWIS, gas suppression, and occupant warning systems, we also provide services related to designing your smoke alarm layout and acquiring the necessary materials. If you're worried about the hard wired smoke alarm cost in Perth, we can work with your budget.
Types of Smoke Alarms
There are two main types of smoke alarms.
First are the photoelectric kind that use optical detection. These work by shining a laser inside a chamber located within the smoke alarm. When smoke enters this chamber, the beam is disrupted, which a sensor can detect as the presence of smoke. This indicates the presence of a fire that's about to start or has already ignited.
Photoelectric smoke alarms react quickly to smoldering fires that produce intense amounts of smoke. These are best installed in places that have a lot of furniture that burns slowly, such as the kitchen, bedroom, and living room. These alarms are essential as, before fires erupt, they often smolder and give off smoke. Early detection of this smoke significantly decreases the risk of a full blown house fire and thus your safety.
The second type is an ionization alarm. These alarms work by a more physical process, utilizing sensitive, electrically charged materials. They're only set off by intense temperatures such as those caused by a ferocious flames. These alarms aren't necessarily ineffective in a home environment, but they're better used in other facilities that frequently house dangerously combustible materials. Often, the fire has to reach significant spread and heat levels before this alarm is activated
Whether you need an ionization or photoelectric alarm is dependent on your business or workplace needs, but for typical residential living, photoelectric alarms are the wiser choice.
You'll also need to consider how your smoke alarm is going to be powered. We can install smoke alarms directly into your home using the house's main electricity. This is the recommended option; however, it can often be pricey. If installation isn't an option within your budget, a long-life lithium battery-powered smoke alarm should perform just as well and will last you years without requiring a change of batteries.
Of course, there's more than one brand of smoke alarm out there, so if you're looking for Clipsal smoke alarms in Perth or Legrand smoke alarms in Perth, we'll bring to you exactly you need, guaranteed.
Legislative Requirements
As of 1997, it's become mandatory for all structures being built, sold, or rented to have smoke alarms installed. If you plan on selling or renting out your flat anytime soon but you don't have a hard wired smoke alarm in Perth, then you're risking running into some serious legal issues. If that's the case, no need to panic. We can take a quick look at your establishment and tell you exactly what needs to be done.
Make sure your smoke alarms are in accordance with the following regulations:
Smoke alarms must be positioned according to the requirements of the Building Code of Australia.
Alarm installation must be in accordance with AS3786.
Alarms must be permanently connected to consumer main power where it is supplied to the building.
Alarm must be in working order
Alarm must have been installed within the past 10 years.
If you fail to follow any of these regulations, the government may issue an infringement, notice, or – even worse – prosecute the owner. We can ensure that operations will go smoothly and efficiently.
Why You Need Smoke Alarms
As mentioned previously, smoke alarms are essential for people living in Perth. Fire flakes from bushfires can travel kilometers before settling on your flammable house. It's clear that smoke alarms down here in Perth are without question a must.
Your senses get dulled when you sleep (especially your sense of smell). An installed smoke alarm will significantly reduce your chances of death. In fact, you're four times more likely to survive with smoke alarms installed rather than without.
Also, a small fire can actually engulf a whole room in an extremely short time of just two minutes. An up-to-date and effective smoke alarm can make the difference between life and death. It gives you an early warning and allows you to have enough time to make your escape.
Most home fires occur due to electrical faults, smoking materials, heating appliances, and open fires. All of which can't always be detected even when you're awake inside your own house.
Your ensured safety goes above all else. However, smoke alarms can also prevent some colossal costs. Investing in smoke alarms now can save you thousands of dollars in repairs and homing costs. The sooner the fire can be detected, the sooner you can get help and minimise the damage. Fires will not wait for anybody, so you'll need time on your side.
Maintaining Your Smoke Alarm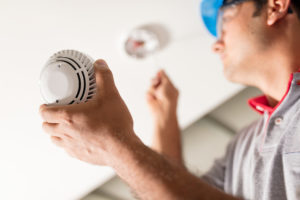 You need to perform a monthly test. Simply hold the test button. Wait for the alert tone. Then, you may release the button.
You also need to do a short annual test each year. Attach your soft brush to your vacuum and vacuum around your smoke alarm. This is important as it will get rid of any cobwebs and dust that have gathered. This will keep your smoke alarm working effectively.
Each year, you also need to use an insect spray around the alarm. Of course, you should never spray in the alarm itself. Just spray on the outside area so insects don't enter your smoke alarm and nest inside.
Every year on the 1st of April, you'll need to replace your smoke alarm's battery. If you're using a mains powered one, be sure to check the instruction manual regarding what you need to replace the battery.
Contact Us
Nobody should have to live in fear of improper fire detection. That's why we work hard to bring you the most up to date and cost effective smoke alarms that will guarantee your safety and wellness.
Contact us and we can tell you exactly what you'll need installed and for what price.
Our team of trained specialists will work closely with you and install the right smoke alarm system unique to your building. Call us, and you'll be in caring hands who have an intrinsic understanding of smoke alarm regulations. We understand the hassle that goes into an installation of any kind, so we can promise we'll be in and out before you know it. And if that just means providing you with the necessary resources, then you can count on us for that too.
Safety comes first, but cost-effectiveness is a very close second. You can trust us to get you the best prices to suit your budget as well as getting the job done right the first time around. Don't compromise for inexperienced amateurs, trust the experts right here in your Perth.
We'll be here when you need us whether it's the first or tenth time you need repairs or testing related to smoke alarms.
Conclusion
Home fires are a scary worst-case scenario and unfortunately, they do happen. But this is no reason to fret. We prioritise your peace of mind. We'll test, and retest, provide state of the art technology, and all for an uncompromising cost-effective price. Our mission is to protect you.