You, like many homeowners out there, have likely considered installing new power points into your home. Often, homeowners in Perth find that their existing power points are too few, too inconvenient, or simply inaccessible. Perhaps you've experienced the familiar struggle of having to reach behind bulky furnishings simply to plug in a small appliance.
Functional placement and power point type can mean the difference between struggling to utilise appliances and easily enjoying activities in your space. Many older homes needed only single socket power points, since fewer appliances were used during their construction.
For modern homeowners that love their houses but want more functionality, this can cause immense frustration. Many homeowners also find they have insufficient power point access at the exterior areas of their home, like their garden or patio.
If you're looking to sell your home in the future, a power point update can make all the difference. Home buyers these days remember to look for this feature and may consider it a priority, since it can mean a whole lot of convenience.
Fortunately, installing additional power points is a specialty of ours.
You don't need any technical knowledge to install a new electrical power point; just leave it to the experts. Homeowners may find themselves looking into how to install a power point electrical socket, but this can, and almost always does, lead to unnecessary risk. In the short term, it may seem to reduce cost of installing power points, but the resulting damage can be expensive.
Shorted wires, ill-fitting fixtures, and incorrect installation can lead to sparks or full-blown fire hazards. Additionally, it's actually prohibited for anyone other than a qualified electrician to install power points due to safety regulations. We put safety at paramount importance. Whether you only have power points with single sockets or are looking to install extra power points to make your home an easier sale, our experts will take care of it.
Types of Power Points
Before you find yourself too deeply entrenched in the business of power point installation, it's wise to take a look at the different kinds of power points available to you. Modern technology has given us a variety of options and add-ons to enhance power point use. Our electricians are always glad to discuss your options more in depth with you, but having a general idea of what will fit your needs is beneficial. There are a handful of main categories into which power points can be sorted:
Single and double GPOs
Both of these power point types are standard at 10 amps of power. You're probably familiar with single GPOs, especially if you've lived in an older home. These power points include only a single socket and were the standard in decades past or in cheaper modern contracting work. Single socket power points can have their uses, but they can also be limiting if you have more than one powered appliance in the area.
Double GPOs are power points that allow the use of two sockets. These have skyrocketed in popularity with the proliferation of various modern appliances. For newer homes, double socket power points are often standard for installation.
Power points with added functionality
Now, power points can often be found with additions that further enhance their convenience.
Power points with switches
These power points come in standard single and double GPO format but have added features for convenience. The most common additional feature is a switch which can be used to power lights and fans on and off. These are handy if you don't like having to walk up to the appliance itself to power it on or off, or if the appliance's own power switch is difficult to reach.
Power points with USB ports
Another adopted add-on we see today is the USB port. These power points function like any other, with either single or double sockets, but with added USB ports. Homeowners tend to enjoy these for the easy charging it offers for smart devices without having to use a bulky socket adapter.
The USB port also frees up sockets that would otherwise be used to charge phones or tablets. Additionally, some power points also allow for choice between either a single USB port or double USB ports between the standard sockets.
15A power points
15A power points are also referred to as 15-amp power points. You'll only see these where heavy machinery requiring more power is used. You'll rarely encounter them inside the home other than in a shed or workshop area. While 15A power points can accommodate appliances typically used with 10A power points, the reverse is not true.
These distinctions, though critical, can be confusing to sort through on your own. If you're looking into 15-amp power point installation, we're happy to set you on the right track. When you contact us, we'll walk you through the 15-amp power point installation costs.
Our Services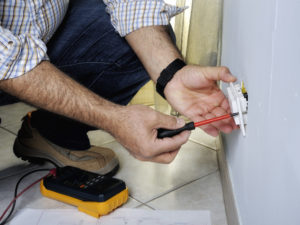 We're here to assist with power point installation and all your other electrical needs. If you're not sure exactly what you need, we'll help you figure it out. Some of our power point installation services include:
Outdoor power point installation
With outdoor power point installation, you can make gardening and power tool use easier and hassle free. While we're at it, feel free to throw out the inconvenient and sometimes dangerous extension cables. When you're considering installing outside power points, it's time to book our services. Our electricians are highly experienced at installing external power points, so you can trust us with your outdoor power needs.
Perhaps you've even considered installing outdoor power points to allow additional lighting or security features. Whether you need help installing power points in the brick wall by your garden or an extra power point outside your shed, let us make your outdoor spaces more accessible.
Upgrading existing power points
You may already have a power point in a suitable location but find that it offers limited use. That's where we can help, too. If you have a power point that is a single socket DPO but have been thinking of updating it to a double socket, we can easily do that.
If you've been thinking of installing USB power points for easy device charging, we can upgrade those old power points for you. If you're looking to sell your home, modernizing the appearance of your power points can make a significant difference. We can take care of not only functional upgrades, but also appearance and finish upgrades.
Installing electric power points where none previously existed
When you're considering installing new power points, let us be the experts for the job. We safely perform power point installation while minding your end use. We consult with you to find the best placement while remembering all safety regulations.
We can even install in materials that provide some difficulty for others. If you've been thinking of installing power points in brick walls, but can't find a company to do it, we're here to help. Whether interior or exterior, we're able to take care of any new power point install.
Why Choose Us?
You deserve the best for all you've put into your home, so don't leave details to chance. Choose the team that gives proven quality results. When you let us take care of your electrical needs, you'll enjoy upgraded use of your home for a lifetime.
Our electricians are highly qualified experts and we'll get right to work installing power points for any of your needs. We pride ourselves on being the premier professionals for installing power points Australia-wide.
Our main mission is to provide you with top tier service for power point install and upgrade that enhances your daily activities. All our electricians are qualified and licensed. That's not to mention that they're also prompt, courteous and extremely knowledgeable. We'll work with you to ensure you get the perfect solution for yourself and your home.
We want to show you how upgrading your power points can serve as a significant benefit to your overall enjoyment of your space. We maintain absolute clarity with you through every step of the process. We pride ourselves on our thoroughness and professionalism.
Never again worry about jobs half done or workers that don't respect your wishes, or even sub-par quality work. We provide only the highest quality services with the most knowledgeable and specialised electricians. When you need confidence in your team and the foremost in power point installation in Perth, you need our team behind you.
Book Us Today
Contact us to book our services, and we'll consult with you to determine how to cover your needs. We'll walk you through everything from placement and existing power points to the installation process to the cost of power point installation to the finished look.
When you book us today, we'll ensure that you receive prompt service, a thorough consultation, and premium results. Let us change the way you experience premium electrical services with our team of top tier electricians.
We are ready to take your call.
Contact Us Today!