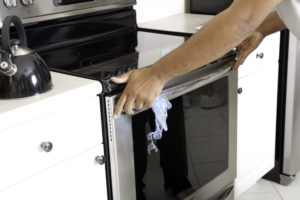 Oven Installation
Your oven is one of the essential components of your home – in fact, it's the focal point of most modern kitchens. If you're in the process of updating your current oven, you may be apprehensive about installing it by yourself. Oven installation can be complicated and often requires the services of an expert.
Whether you use a gas or electric oven, installing an oven incorrectly can have dire consequences. It's essential that you consult professionals if you want to ensure that your oven is functioning correctly. From gas leaks to issues with electricity, oven installations can go wrong if the incorrect person is in charge.
On this page, we'll overview information you need to know about oven installation and provide some instructions on how to reduce your risks as much as possible. If you're in the market for a new oven, make sure to consider all the information provided by our team.
Types of Electric Ovens
If you're in the market for a new oven, you've probably noticed that there are a wide variety of different designs. Regarding installations, there are two primary types of electric ovens. The first is a wall-mounted oven, and the other is a standalone oven. We'll explore the complexities of each of these ovens in more detail below.
Wall-Mounted Ovens
As you might infer, wall-mounted ovens are ovens attached to the wall of a kitchen. These types of ovens are increasingly popular in many Australian homes, since they provide seamless integration into the kitchen's design and ensure users don't have to bend over to access the oven. However, wall-mounted ovens are some of the most complicated to install, especially if you don't have any electrical experience.
With wall-mounted ovens, you need to position the oven before you can connect the appliance to the original junction box. Positioning can be difficult and dangerous if you don't know how to install the oven properly. When wall-mounting an oven, it's recommended that you contact an installation team in your area to carry out the procedure.
Standalone Ovens
Standalone ovens are ovens that can fit into almost any space on the floor – they're typically much more convenient to install. With stand-alone ovens, you need to leave space behind the oven to connect the appliance to the junction after you have it in place. While this is typically much easier than placing a wall-mounted oven, it still poses several challenges that may be difficult for people with no oven installation experience.
While some people do make attempts to install standalone ovens, we still suggest that you contact an installation team before you attempt installation on your own. This is especially true if you don't have experience with electrical work or installations.
Types of Gas Ovens
Gas ovens are a completely different form of an oven. While they may look the same, they use an entirely different energy source. With a gas oven, you'll need a gas source to heat the oven and the stove top. While gas ovens tend to be much cheaper than their electric counterparts, they do also come with some complaints about heating congruency and consistency.
Gas ovens also come in both wall mounted and standalone editions. As with electric ovens, the standalone versions of gas ovens tend to be easier to install. It's critical that you understand the risks of failing to install a gas oven correctly, since gas has the potential to be very dangerous.
Risks of Gas Installation
While electrical oven installation can pose risks during the installation process itself, gas installation can pose risks long into the future. If you don't understand the complexities of installing gas appliances, you may be opening yourself up to issues with future leaks or complications. Gas leaks can prove fatal – it's essential that you leave gas installation up to the professionals.
You'll also want to make sure that the oven is appropriately set up to vent and prevent additional leaks. You may also need some custom gas fittings to help ensure there is a gas access point in the right area of your kitchen. Don't sacrifice the aesthetic appeal of your kitchen to appease poorly-located gas fittings.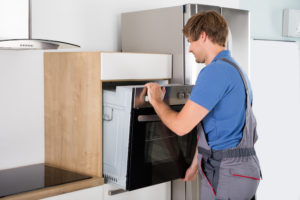 Gas and Electric Oven Installation Perth
If you're located in Perth, it can be hard to find an excellent installation service at a reasonable price. At Richtek Electrical Solutions, we provide our clients with superior customer care and exceptional service. We service the city of Perth and many of the surrounding suburbs.
If you live in Perth, Armadale, Bibra Lake, Cannington, Canning Vale, Claremont, Cockburn, Cottesloe, Dalkeith, East Victoria Park, Fremantle, Joondalup, Malaga, Mandurah, Midland, Morley, Myaree, Osborne Park, Rockingham, Wangara, or Welshpool, we can provide oven installation services in your area.
Instead of using national or countrywide electricians or installation teams, using Richtek Electrical Solutions ensures you deal with a local company that has local knowledge. We pride ourselves on being one of Perth's best electrical companies – we have over a decade of experience helping customers get the most from their installation processes.
Experience Matters
When it comes to serious jobs like oven installations, your electrical solutions team's experience truly matters. You need to ensure that you work with a team that has performed countless oven installations – it greatly improves your chances of success. At Richtek Electrical Services, we have over a decade of installation experience that can help you ensure your oven is situated correctly.
We also have experience in plenty other lines of work including electrical and air services. If you're looking for a long-term partner that can facilitate all types of electrical work, we're happy to oblige. Don't choose a team of inexperienced and underqualified labourers – we can ensure all aspects of the installation run smoothly.
Commercial Oven Installation Perth
While the vast majority of oven installations are domestic, there may come a time when you need to install a commercial oven in your business or place of work. Commercial oven installations can also be expensive and time-consuming if you don't understand how to install your new appliances properly. If you want to ensure that your commercial oven is operating effectively, it's a good idea to use a specialist team that understands the process.
If you're purchasing large ovens for a restaurant or other commercial use, the process can be very complicated. Also, you may need to readjust your wiring if your planning on a specific layout for your kitchen. Using a team of electricians to alter your internal electrical options can make the installation process much easier; it can also ensure your internal layout plans can remain the same.
Our team at Richtek Electrical Solutions is happy to provide services for commercial oven installation. We have plenty of experience installing all forms of ovens in a wide range of different locations. If you're looking for a team capable of performing complex jobs, Richtek Electrical Solutions is a solid option in Perth.
Common Reasons for Oven Installations in Perth
Most of the time, an oven installation involves installing a new appliance where a current oven is located. If you're upgrading your current oven, this is the type of installation you're probably undergoing. However, there are plenty of other reasons an individual may need to install an oven.
If your current oven breaks, repairs may need to be done out of home, which means your oven will need to be removed and reinstalled at a later date. If you didn't install the oven yourself the first time, it's still advisable to get someone in to perform the installation once your oven is repaired.
Another common reason people install ovens is kitchen remodelling. If you're changing your current kitchen layout, you'll need to reinstall your oven in a different location. Using an installation team to help with the relocation is a great way to ensure your new kitchen gets off to a good start.
Safety Matters
At the end of the day, it's not worth risking the potential repercussions of an unsafe oven installation. If you don't have any experience working with electric or gas appliances, installing an oven can be very hazardous. Installation teams are trained to assess risks and comply with regulations.
Oven installation is not an expensive investment when you consider the benefits. This is especially true for gas ovens – you don't want to risk a gas leak to save a few dollars on DIY installation.
Oven Installation Cost Perth
If you're in the market for a new oven or you're moving your current oven to a new location, you may be wondering how much it costs to get an electrical solutions company involved. At Richtek, we're known for providing some of the industry's leading rates – we offer excellent value service to our local customers.
The cost of your electric oven installation in Perth will depend on the type of oven and its installation location. If you're looking to save money on your next oven installation, use a local provider that values its relationship with its customers. Contact Richtek Electrical Solutions today for a quote on your home's oven installation!
We are ready to take your call.
Contact Us Today!