Electrician Perth – Richtek Electrical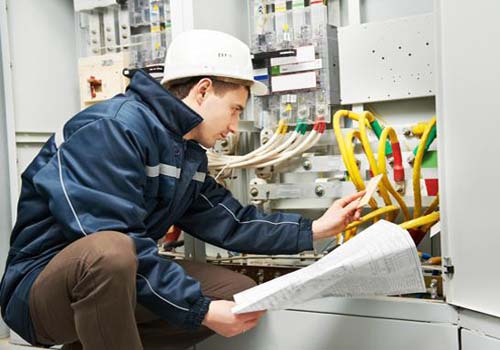 We are qualified and experienced electricians in Perth.  Whether you are looking for Domestic, Commercial, Industrial or Emergency electricians we have the skills and expertise to take care of pretty much any kind of electrical problem or installation and with our determination to give you friendly, top quality service we can guarantee you'll be satisfied with our work. In fact, we won't sign off on the job until you are.
Need An Electrician? Who Better To Get Than Perth Electricians, Richtek Electrical.
Whether you need an electrician to install comprehensive measuring and flow meter equipment in the mining industry, a set-up suitable for the food industry or whether you want to have that iffy power-point replaced or a house wired or rewired, we have the manpower with the skills and knowledge to do it and do it well.
If you want to discuss a solution to your electrical problem or have us check out some aspect of it that you are worried about we are here to help you. If you've had trouble getting electrical work done well before, you don't have to worry about it any longer. Richtek Electrical offers work that is of top-notch quality, with our trained and highly experienced electricians who will give you friendly service, you can count on having the job done properly, on time and on budget.
Our Local Electricians Are Honest, Friendly & Reliable
Has customer service been forgotten by all your tradesmen?  You can count on us to do our level best to ensure you get the job you deserve done the way it should be done. Our staff are not only friendly, they are efficient, have good communication skills and high work ethics. It's a pleasure to have them on the job – or so our many happy customers tell us. While we like to remain modest, it is a fact that our company was founded on the principals of doing quality electrical work for an affordable price and having it done by staff who are friendly and efficient; people who go the second mile to ensure you are pleased with what they do.
Our many customers agree that it is a pleasure to have us get the job done because we take care of all the finer points no matter how complicated a job is.  Our attention to detail ensures there are no loose ends that can cause you problems or more costs down the track. You can have peace of mind knowing the job will be done well the first time so there doesn't have to be a second or third time.
Richtek Licensed Electrical Contractors In Perth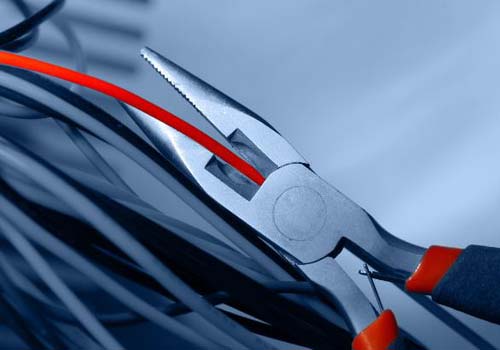 We've been servicing the Perth area for many years and our customers are happy to refer us to their family and friends whenever necessary.  Richtek Electrical Solutions founder, Philip Richardson has worked in the electrical industry for over 12 years, with experience in commercial, domestic, industrial, maintenance and fit-outs in and around Perth.
Having completed his A grade electrical technician apprenticeship, he continued his studies and was successful in achieving his Certificate III Diploma in Electrical Instrumentation, giving him the skills to work as an electrical contractor in and around Perth, WA installing, modifying, repairing and maintaining the instruments used to measure and control pressure, flow and temperature in petrochemical, mining, manufacturing and food industries.
Having gained a great deal of experience, Richardson's final goal was to create an electrical company in Perth that would offer superior quality electrical services for domestic and commercial needs throughout the Perth district and beyond.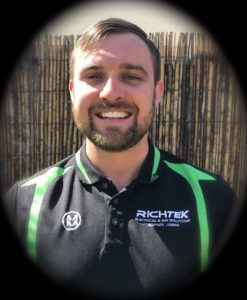 To do this, his efforts and those of his employees are directed at establishing great relationships with customers so that they are eminently satisfied with the work done for them and will be happy to remain among his many happy clients.  He realises that finding the perfect electrician is difficult in most areas, and aims to address this lack by ensuring that he and his employees are fully trained, qualified and highly experienced in all things electric and also have the kind of people skills needed for success in business today.
He also likes to keep up to date with all the latest technology so that he can appraise his customers of the latest techniques available to run their business more efficiently. He ensures that all his staff have the latest training to keep them up to date also. That way, his customers can expect the best service from each and every electrician that works in his company.
With this mindset at the forefront of everything he does, Richardson has established his electrical contractors' company and continues to develop it further so he is fully able to meet the needs of everyone who requires his services.
To that end, Richtek Electrical Solutions not only offers top quality work at an affordable price but continues to satisfy their clients with good communication, quick and efficient service, quality workmanship, up to date advice and high regard.  They always ensure their customers are satisfied before signing off on a job.
Contact us now for a quote or to discuss your problem and get our advice on how best to tackle it. We are ready to take your call.
Our Partners





We are ready to take your call.
Contact Us Today!